Bearded dragons are one of the easiest reptiles to domesticate. Very easy to care for, not too many supplies needed, and space-friendly cages won't have you worried about eating much of your home spaces.
For the best cages, you'll need it to be size efficient to fit baby, juvenile, and adult bearded dragons, perfect material not just for durability, but also to offer security from other pets, easy to clean, among other features. The best bearded dragon enclosures are easy to assemble and can be kept in any area of the room, as long as it's away from direct sunlight.
If you're looking to buy a reptile cage for your beardie then read further as we review the best choices available in the market. What's more, there's a buyers guide that's detailed enough to enable you to make an informed decision.
Carolina CustomTerrarium- Extra-Long
Characterized by its tall, extra-long depth, and easy to assemble advantage, the Carolina Custom Cages Terrarium takes the first spot.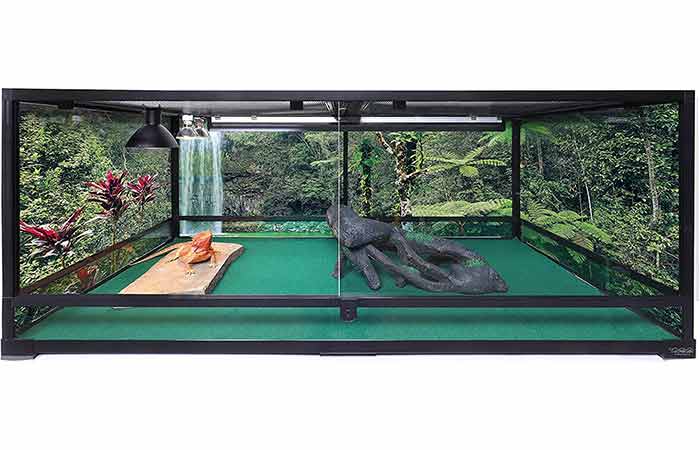 The Terrarium is a perfectly sized fit for your baby, juvenile, and an adult bearded dragon measuring 48 inches long, 18 inches wide, 18 inches deep. A gorgeous terrarium of approximately 68 gallons and supports up to 60 pounds.
Features
Glass making used to retain interior heat
Mesh top for putting of adjusting of lamps
Tougher cardboard and extra styrofoam packaging for even better protection against UPS abuse
Waterproof base
Hinge doors
Key-lock security
Pros
Easy to assemble
Durable and safe
Good insulation
All-inclusive package with a kit and assembly equipment.
Allows for additional heating equipment added to its metal grate.
Adequate space
Easy to clean
Provision for electrical wiring
Cons
Doesn't come with a stand
Exo Terra Outback Terrarium
Next in line is the Exo Terra Outback Terrarium weighing approximately 41 pounds and a measure of 25 inches wide, 19.6 inches long, and 13.3 inches deep.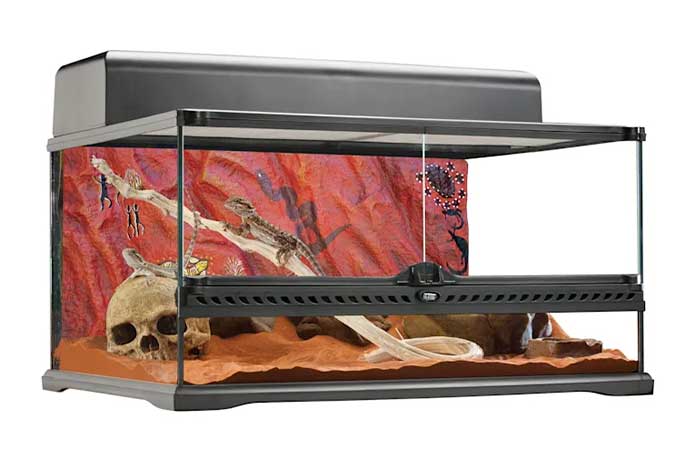 For just 20 gallons, the tank is very limited to young/ baby bearded dragons that will easily outgrow the habitat. Nonetheless, the terrarium has incredible features including;
Front opening doors for quick and easy access during cleaning and feeding.
Design lock to prevent escape
Fullscreen top for maximum ventilation and UVB/ infrared penetration. Also, it's completely removable so you can access your pet whenever you want.
Five closable wire or tube inlets on both sides – located at the back of the screen cover, the inlets allow you to install more items in the tank including Heat Wave Rocks, Waterfalls, and sensors.
Raised bottom plate
The extra high fixed front window is ideal for thick layers of substrates and aquatic plants
Rock background included for climbing dimensions.
Pros
Durable glass material
Easy to clean
Easy access to your pet
Wire connections for installations
Lockable doors for security
Cons
It comes with no heating devices except their own.
The bearded dragon will quickly outgrow the tank
Reptizoo Reptile Glass Terrarium​
The Repti Zoo Reptile Glass Terrarium is a classic choice by the Repti Zoo company that's been in operation for over 12 years. Great years of service that provides its customers with high-quality products including this vivarium weighing 52 pounds with measurements of 36 inches wide, 18 inches long, and 18 inches deep. The 50-gallon terrarium is best suited for juvenile and young adult bearded dragons.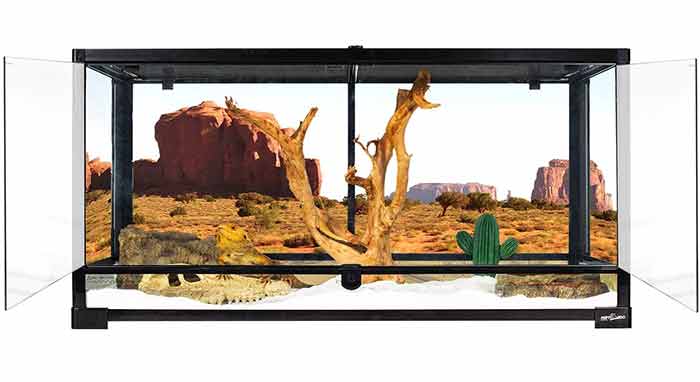 Features
Made of abs plastic – durable and high quality
Double hinged door
The removable top mesh screen provides plenty of ventilation for optimum airflow and allows full-spectrum, UVB, and IR light penetration
Front open door design for easy access
Independently locking system
Raised waterproof bottom to allow for the installation of substrate heaters in the terrarium.
Rotating fixed structure can hold four lines firmly
Open window for ventilation
Pros
A comfortable fit for a small, juvenile, and adult bearded dragon
Spacious to allow for multiple installations
Easy to assemble
Waterproof bottom
Adequate UVB penetration
Cons
Zen Habitats Reptile Enclosures
A rather new entry in the market, the Zen Habitats Reptile Enclosure is very beautifully designed, with great features and very spacious. The cage is 120 gallons measuring four feet wide, two feet long, and two feet deep.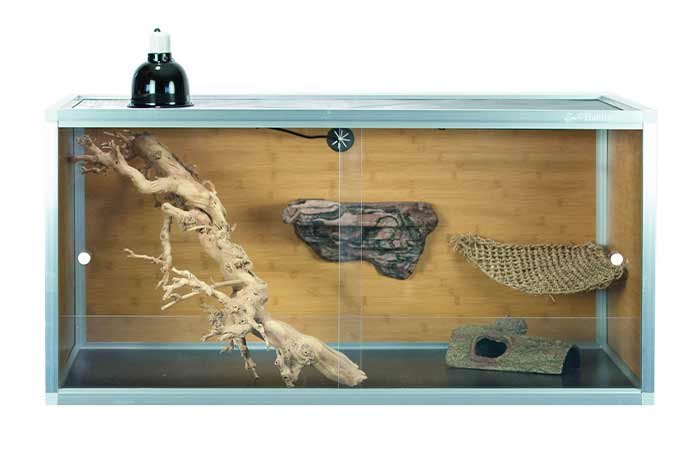 Features
Spacious make to allow multiple items to be fit in the cage.
Aluminum framing for more stability and durability
Bamboo-lined panels for minimizing reflection and offers great heat retention.
Galvanized steel screen top for ventilation and strong protection against predators like cats
Acrylic front sliding doors allow for way cleanup and spending time with your pet.
Acrylic substrate shield
Rubber grommet wire port
Pros
Huge in size
Lightweight
Resist up to 70% humidity
Excellent ventilation
Easy to assemble and disassemble
Fits most
Cons
Exo Terra All Glass Small Wide Terrarium
Yet another product by Exo Terra, an all-glass small but wide vivarium best suited for a baby bearded dragon.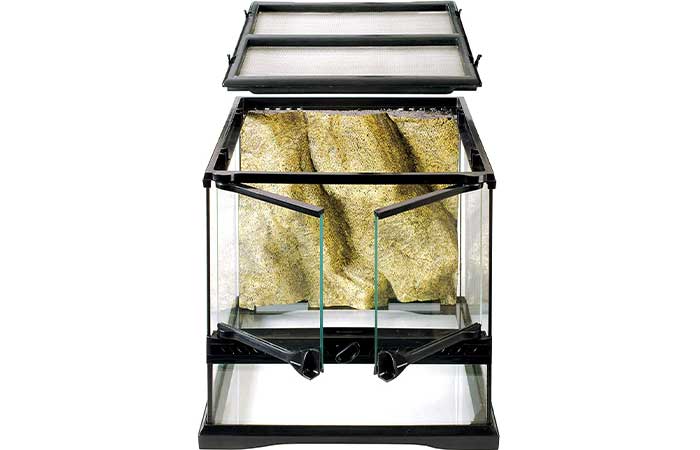 The tank only measures 25 gallons, 24 inches wide, 18 inches long, and 12 inches deep. The tank weighs just 32 pounds, slightly lighter than the other kind, and doesn't include a kit.
Features
Dual opening doors allowing for easy access into the cage
Removable screen top that makes it easy for you to interact with your pet without opening the cage.
Large doors with a specially designed security lock for safekeeping. What's more, can be opened separately.
Rocky backdrop and a grooved wall offers nature's finest decor for a homely feeling.
Raised bottom frame – used to mount a substrate heater to heat a part of the extended ground surface.
Closable inlets for wires and tubings
Pros
Waterproof base
Ease of access into the cage with the dual doors
Comes fully assembled
Reliable safety lock
Lockable mesh lid
Easy to clean
Stainless steel cover allows for adequate UVB penetration.
Cons
Your pet will outgrow the package fast.
Zoo Med ReptiBreeze Aluminum Screen Habitat
A classic open-air aluminum screen cage designed for reptiles of all sizes. The cage measures 24 inches long, 48 inches wide, and 24 inches deep.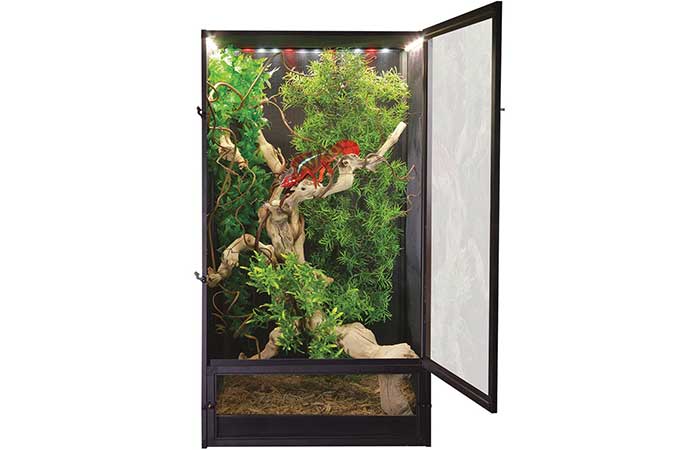 Features
Made with a sturdy black anodized aluminum screen that's corrosion-resistant and can have different colors.
Wide floor panels
Two doors – main door and bottom door for ease of cleaning.
Pros
Durable
Large front door for easy access
Easy to assemble
Large enough for any pet size
Cons
Not strong enough to resist breakage and predator attacks
Zilla Vertical Tropical Kit
One of the best vertical enclosures for bearded dragons that love to climb. Can be fitted with multiple twigs, vines, and tall greenery for decor. The kit measures 18 inches in length, 12 inches long, and 20 inches deep. It can fit any bearded dragon.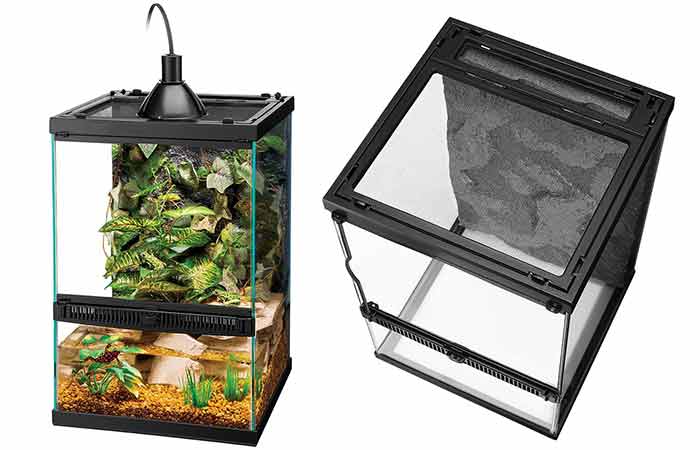 Features
Made of an anodized aluminum frame that's durable and stable.
Black mesh screen that's escape-proof
Pvc bottom for water resistance and ease of cleaning
Cord access port that allows for use of power cords and tubing.
Pros
Long-lasting
Easy to assemble
Fits all sizes
Easy to clean
Convenient wiring for installations.
Cons
The mesh screen is unstable
Buy Guide
Materials
The first thing to look into is the type of material you use for the enclosure. There are multiple choices to choose from but they all have their ups and downs.
Glass – a prevalent choice for making the bearded dragon tanks as it's readily available in the market. However, they may lack good airflow and circulation. That along with high humidity and temperatures makes the habitat inhospitable and could also cause your pet to develop respiratory illnesses.
Melamine – made from melamine board. It's also a great choice as it offers adequate ventilation, which can further be enhanced with wire mesh openings. The greatest disadvantage can come about if the wood isn't well finished as it easily warps. The tank needs to be sealed off to keep off moisture. Aquarium grade silicon can be a great sealant for the edges, so check for that on the packaging.
PVC – a common choice as the former two choices. However, PVC is very light and much more expensive therefore not a good choice for those of you on a tight budget. Ventilation isn't good with this plastic
ABS – a great plastic alternative that's equally easy to clean and has no plastic smell as the PVC.
All these choices are great but it majorly depends on your pocket as the plastic choices are as expensive as vision cages. Wood is cost-effective but has other downsides. If you stay in a highly humid region, it's not your ideal choice.
Size
Size is highly dependent on your bearded dragon's size. There are different sizes to fit each beardie as long as you know which is right for you.
Baby dragon – a 20-gallon tank will do but the best fit should be double that(40-50 gallons).
Juvenile – 55 to 70 gallons is enough for a dragon between five months to a year.
Adult – by the time your beardie is 18 months old marking adulthood, invest in a tank that's 100 to 120 gallons, maybe more.
The size can never be too big. In fact, the bigger, the better.
Durability, Stability, and Security
A very crucial detail comes with the durability of the tank. Whether you have this pet only or there are other pets like a dog or cat, it's good to invest in quality enclosures for your dragon. Durability means the tank should last you even 10 years with an additional warranty on the product upon purchase.
The tank should be strong enough to resist a cat's claw or the hands of any other predator. The pets enclosure should also be secure to prevent the pet from falling off its habitat. Look for metal or glass screen covers that can be used to prevent your pet's exit. Plastic kinds can melt.
You can also look for a tank with a lock system so you lock the pet up when you're away. You wouldn't want your children dipping their hands in the tank while you're away.
Ease of Cleaning
The responsibility of keeping a pet includes you keeping its habitat clean regularly. So look for a tank that's easy to clean.
Additional Tips
Inquire about the tank's air circulation. It's influenced by the height and material of the tank but other features may come into play.
Check for insulation levels. Bearded dragons need heat to keep them warm so they need a good insulating tank.
Avoid kits as they limit how you arrange the tank.
FAQs
What Size Cage Does a Bearded Dragon Need?
Ideally, the cage size for a bearded dragon should fit the age of the beardie, i.e baby, juvenile, or adult. The tank can't be too big for your pet, but can be too small. The ideal cage size for each beardie is;
Baby bearded dragons – minimum size is 20 gallons measuring 30 inches long, 14 inches wide, and 12 inches deep. A 40-gallon size is recommended to at least last you five months before it's time for an upgrade.
Juvenile Bearded Dragons – at the age of five months now, the beardie will fit in a cage 40 to 70 gallons tank.
Full Grown Bearded Dragon – the recommended size for this 18-month-old dragon is at least 100 to 120 gallons but could easily fit in the juvenile cage.
Can Bearded Dragons be Caged Together?
Reptiles in general are territorial and don't like to share space. There will be fights for superiority especially if you had caged two or more male bearded dragons. More space in the enclosure will surely work but just temporarily as they might fight for basking space among other things.
To minimize aggression, you could try to pair up a male and female bearded dragon. In this circumstance, you should expect an offspring sooner or later. Avoid keeping large beardies with small ones as they may be 'bullied or even eaten up by larger ones.
Can You Keep a Bearded Dragon in a Screen Cage?
Yes, glass and acrylic cages offer the best Terrariums for your bearded dragon. Just ensure to keep off direct sunlight or draft. It's certainly a better off choice than wood which requires treatment using polyurethane that could turn toxic to the pet if they inhale the fumes.
What Do Bearded Dragons Need in Their Tank?
The tank acts as a habitat for the bearded dragon which means they need quite some items in there. These include;
Floorings like tiles or DIY items like a newspaper of paper towels
Lighting preferably incandescent heat bulb with UVB lighting.
Caves
Basking space
Water bowl
Branch(es)
More about Bearded Dragons