Bird carriers allow you to carry and move your pet bird from one location to another. They come in different designs including Soft-sided, Plastic, Acrylic, backpacks and flatpack metallic cages.
If you love traveling or walking around with your feathered friend, here are the best birdie carriers, their features, and a guide on what to look for when shopping.
Celltei Pak o Bird Backpack
This fully-featured backpack offers various carrying options since it can be used as a shoulder bag backpack or can be strapped in front of your body. The pack can be fastened onto a vehicle's safety belt.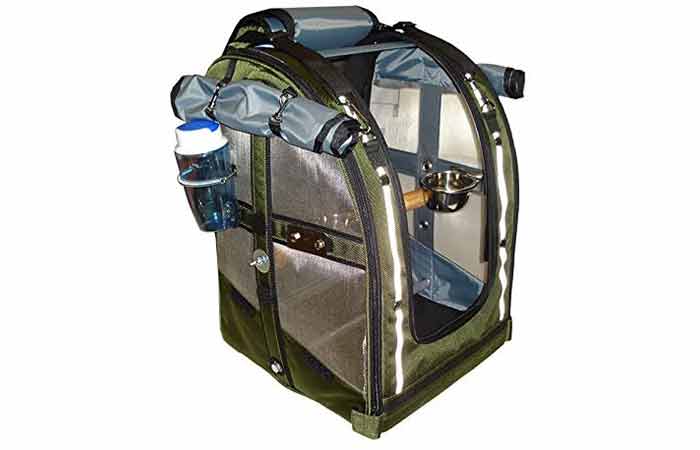 Features
It has a mesh that is constructed using stainless steel to reduce the chances of your chewing through while offering ventilation.
The interior is made of heavy-duty Denier nylon.
It has a wooden perch that can easily be placed on various heights.
The backpack is available in many sizes that can handle almost all bird sizes
The carriers are lightweight and have a natural wood perch. They also have stainless steel food bowls and water containers.
The carrier comes with toy accessories and rolling shades at the sides that provide more security when traveling.
The backpack comes in a variety of sizes and colors to suit small birds such as budgerigar and huge birds such as macaw.
The backpack is however costly but it reflects on quality, this carrier would be effective for you in the long run in case you plan on using it regularly.
The carrier bag can support a weight of up to 1.8kg
Pros
It has 6 inches, 8 inches, and 10-inch adjustable perch height.
Can handle an additional water bottle
It has two steel food plates.
It has attachments for placing bird toys.
It comes with side curtains to offer shade and privacy.
It has a detachable floor, which can fully be opened to ease cleaning.
Cons
It lacks a base grate that separates the bird from the floor.
The pack is too huge to be used in airlines.
It is costly as compared to other backpacks
Petsfit Style Bird Carrier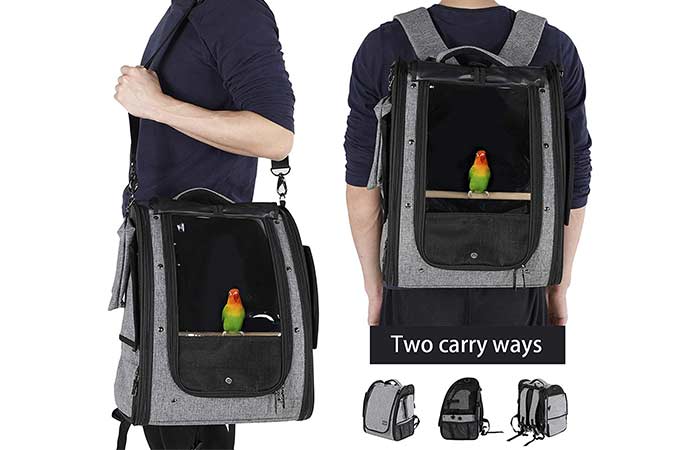 Features
This backpack is efficient for birds shorter than 14 inches.
It has a 1-inch diameter perch and a steel food bowl.
The mesh and holes at the roof of the backpack provide ventilation.
It has a buckle for securing the pack in a car.
It comes with a bottom tray to simplify cleaning.
It has two pockets that you can use to carry food and various bird supplies making it suitable for hiking with your birds.
Pros
Offers proper ventilation
Offers shade to your pets
The cleaning tray can easily be cleaned.

It has an integrated food plate.
Cons
It lacks a bottom grate therefore the bird is in contact with the floor.
It lacks a spot for placing water containers.
It lacks a spot to hang toys and bird accessories.
Tiny birds can escape through the ventilation holes.
A&E Cage Soft-sided Travel Bird Carrier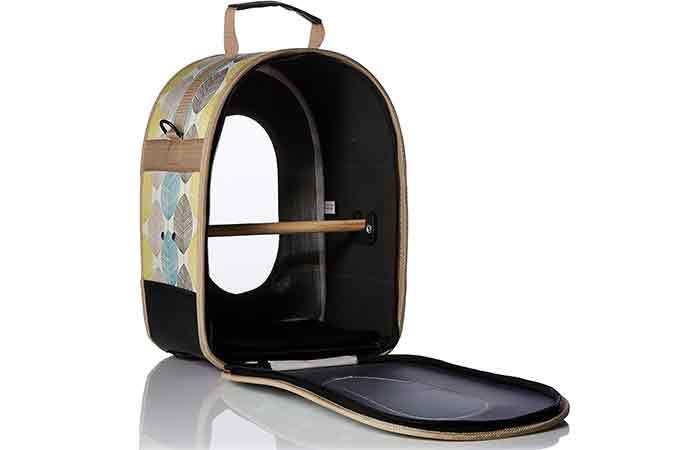 Features
This backpack is suitable for carrying small and medium-sized birds over a short distance.
It has a top handle and a snap-on shoulder strap.

It comes in two sizes, a smaller carrier and a larger carrier that offers more floor space.
The pack has double zippers that open on three sides.
In case you plan on veterinary trips, this pack is ideal for you.
Pros
It is cheaper than other backpacks.
It is lighter than other backpacks.
It comes in two sizes to fit small and medium-sized pets.

The floor panel is detachable thus allows easy cleaning.
Cons
It is unsuitable for huge birds
It lacks a place to hang toys, water, and food containers.

X-ZONE PET Bird Travel Bag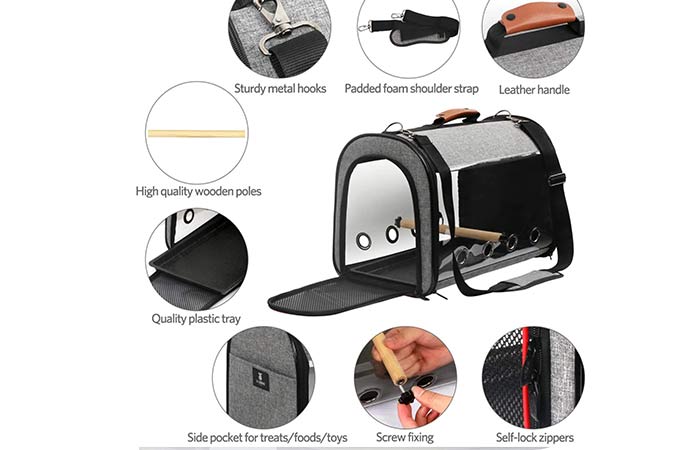 Lightweight & Portable-Suitable for traveling out.
Unique shading design to protect your pet from the sun. Transparent on two sides,Offers wider field of vision for you and the pet
Size:17″L x 10″W x 12″H
Best for Conures, Cockatiels, Quakers, Caciques, Mini Macaws, small Cockatoos, Lories, and other similar size parrots.
Anti-grab mesh design and vents ensure adequate airflow for a non-stuffy outing.
Easy to Clean : Double zipper design, quick assembly/disassembly, with solid wood perch and bottom tray, easy to clean or fold when not in use.
Halinfer Bird Carrier Backpack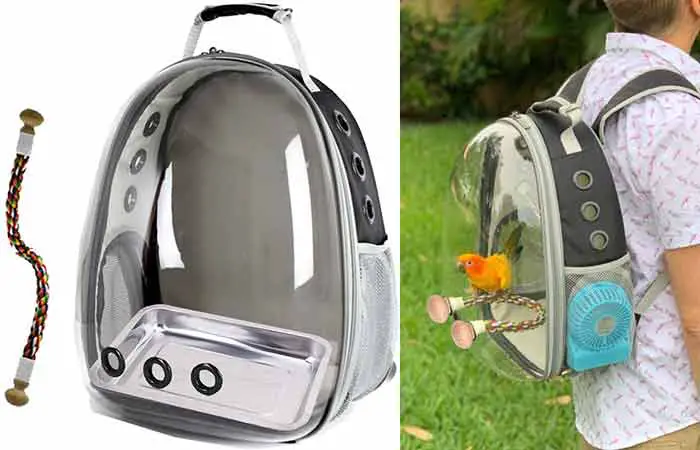 This is a see-through bubble bird travel carrier backpack that comes with a stand perch and tray.
Best for outdoor traveling and hiking.
Lightweight: Entire bird backpack is 3 lbs only
Comes with adjustable shoulder straps to accommodate kids to adult height, it is an all-gender-fit bird carrier
Caitec Perch N Go Acrylic Travel Bird Cages
Most of these bags are manufactured using a polycarbonate that makes them stronger than other carriers. These cages are however uncomfortable to some birds due to the construction material. It is essential that you determine whether your birds will remain comfortable in these cages before purchasing one.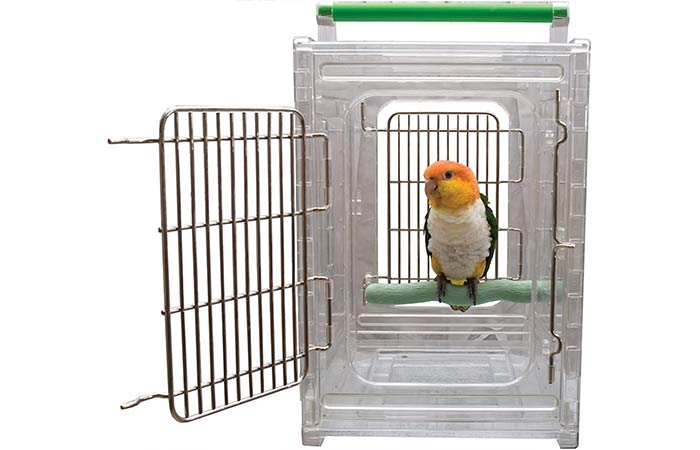 Features
This product takes pride in quality, design, and value.
It is a strong and super sturdy travel cage manufactured from polycarbonate, therefore, it is tough to break.
It weighs 3kg making it suitable for traveling.
The cage is specially designed for small to medium parrots. The size of the cage makes it unsuitable for Cockatoos, Macaws and long-tailed parrots. It is suitable for calm birds.
It has an adjustable perch and the handle at the roof can also be used as a perch.
Pros
Birds cannot chew the high-quality material.
The steel cage door is escape-proof; therefore, you will never worry about escapes.
The perch is moveable, therefore; you can place it high or low depending on the length of your bird.
Cons
The cage is expensive considering that it is made from top quality and unbreakable material.
The perch is slippery therefore could cause accidents.
Trixie Bird Transport Bag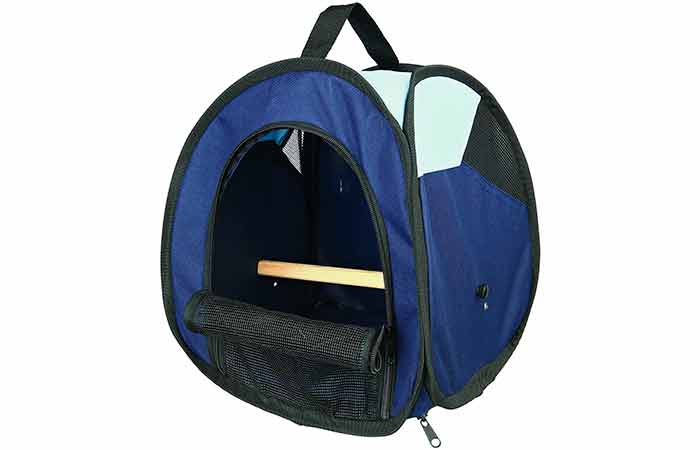 Features
It has a simple design and has a tiny perch inside coupled with a mesh window at the front.
It weighs only 500 grams and comes with a shoulder strap therefore you can easily travel with it without fear of dropping anything.
The travel cage is suitable for people with small birds who appreciate short trips.
The travel cage is suitable for people with small birds who appreciate short trips.
The wooden perch is of high quality.
It is suitable for birds that are less than 12 inches long such as parrots.
Pros
It is one of the cheapest travel backpacks in the market.
The construction material is high quality thus small birds can never chew through.
It is light therefore easy to carry.
The walls are waterproof
The travel cage can be folded, this makes it easier to store.
The carrier is enclosed and dark therefore your birds will fell protected.
Cons
The backpack comes in one size that only fits small birds.
It lacks food and water bowl attachments.
Kaytee Me Plastic Travel Carrier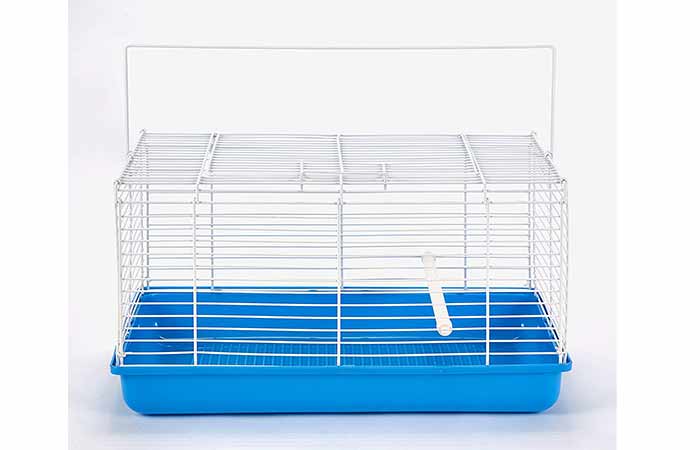 Features
This is a popular choice among travel enthusiasts.
It has a plastic basement, metallic bars and comes with atop handle.
It has a small perch and weighs 1.2kg.
It is suitable for transporting small birds such as lovebirds, budgies, and canaries for a short duration.
The large-sized cage could fit huge birds such as cockatiel but this would be inappropriate since the birds would easily break free.
Pros
It is a cheap option for transporting birds
It is light thus easy to carry.
Cons
It is only suitable for small birds considering the size and durability.
Pawhut Metal Parrot Cage Bird Carrier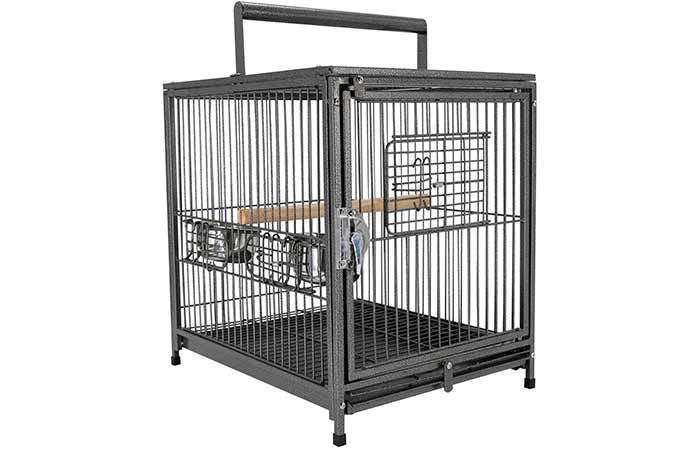 Features
The cage has plenty of space for various birds to co-exist and offers a 360-degree view.
The lock at the front prevents the escape of all sized birds.
The cage is ideal for short term traveling and when exposing your birds top the sun or during an emergency evacuation.
It has a wooden perch, two feeding bowls, and ample space for placing accessories.
Pros
It is cheaper than other travel cages, stronger and lasts longer.
It is foldable therefore offers easier storage.
It offers a 360-degree view.
The cage material is rust-resistant.
It has two doors to allow easier feeding and cleaning.
Cons
It is heavier than other travel cages. It weighs 8kgs.
Kookaburra Metal Bird Cage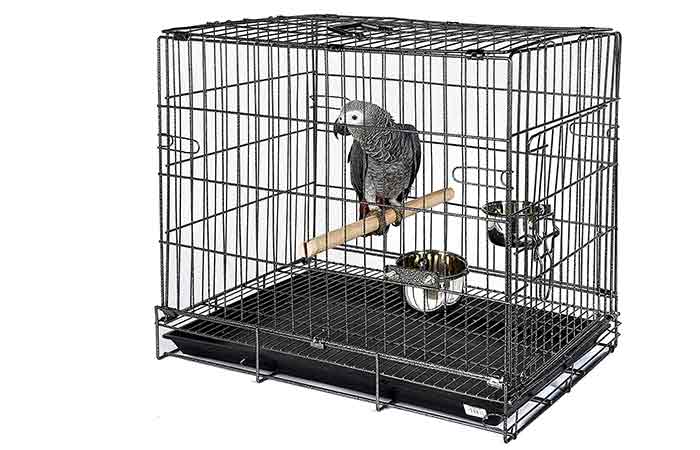 Features
These carrier cages are smart, simple in design and offer style. There are two sizes available; small and large size.
The small size fits Galahs, Senegal, or a Conure. The large size fits huge parrots and African Greys.
The small size weighs 2.9kg and comes with a perch and two bowls that are bolted.
Pros
It is cheaper than some travel cages.
It comes in sizes, therefore, gives you options when purchasing.
The powder-coated frame is rust-resistant therefore lasts longer.
The cage folds easily thus can easily be stored.
It is strong and durable thus offers you value for money.
Cons
It is heavier than plastic carriers.
The folding parts do really last for long
Factors to consider when buying Travel Cages
Quality of Construction Materials
You need a travel cage that lasts longer and you can achieve this by purchasing a top-quality cage. A cage constructed from high-quality material such as aluminum and steel offer more comfort and are easier for birds to adjust. Plastic cages are equally effective but they have a shorter lifespan and birds often chew through the material.

Size
Depending on the size of your bird, purchase a cage that suits their height and length. There are small, medium, and large cages, all suited to different bird sizes. Pick a carrier bag that offers the birds enough space to stretch their wings and play. Pick a cage that is recommended for your bird size.
Climate
The best carriers have ventilation that keep the cage cool in hot weather. Some travel cages have flaps that cover exposed parts when the weather changes. Pick the right cage and keep in mind that you can always cover an open cage with a blanket in cold weather
Easy of Maintenance & Cleaning
The cages need to be clean at all times. Having a carrier that has a removable tray might be helpful. Others have bottom grills that prevent the soiling of the floor area.
You can also consider backpacks that have a paper lining that makes cleaning easier. Bottom line; avoid backpacks that have crevices that harbor food leading to bacterial growth.
Cost
High-quality backpacks will cost you more but always last longer. Price is a factor to consider when picking the right backpack since features that come along with the backpack also vary based on price.
Your primary concern should be to ensure the birds are safe and can never escape. Ensure you purchase a backpack that is economical and offers the pets peace of mind, comfort, and security.
The purpose of the cage
When purchasing a travel cage, you must consider the purpose. You might need a cage for traveling by car, airplane or for a walk in the park or to vet. Cages that have straps are suitable for short distances where you will need to use your hands.
A Long distance may require strapless cages with enough space for play and feeding.
Further Reading: DIY Bird Backpack Carrier